Home Offices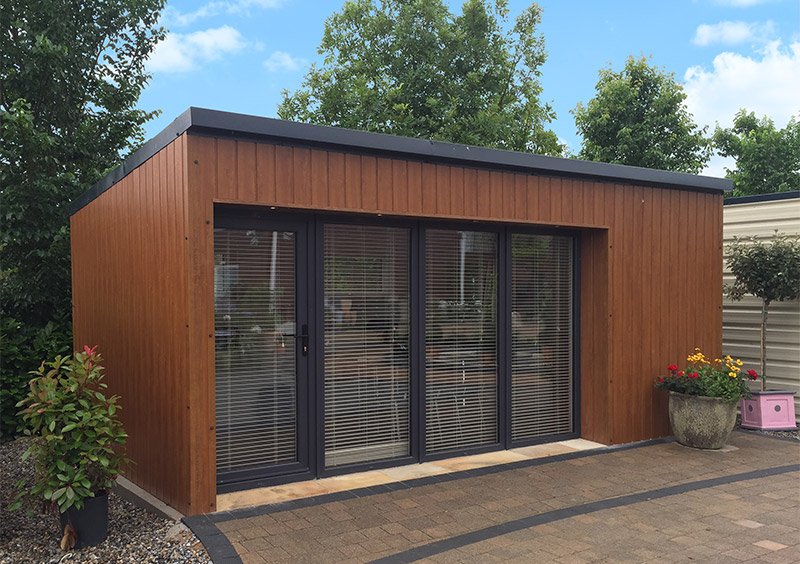 SAVE €13,400 per year by Working from Home in a Steeltech Home Office
Working from home has rapidly gained popularity in recent years. Nearly half of Irish workers now spend at least one day a month...
Our new style of Composite Panel Home office above will be available soon. This Home Office comes in a range of sizes with 2 Colour Options, the Grey with Slate Trim as above and a Woodgrain Effect Option. These units come fully wired with a half glass pedestrian door and a large window. You can get more information on this product by starting a LiveChat with one of our Sales Agents on the bottom right of your screen.
---
So, what comes as standard in a Home Office?
40mm Composite Panel Insulated walls and roof
Half-glass PVC pedestrian door
Medium PVC window (quantity dependent on building size)
Fully wired interior with lights and sockets
Optional Extras:
Overhangs
Gutters
Window boxes
Window Options:
Small double-glazed window (18" x 18")
Medium double-glazed window (3' x 2')
Large double-glazed window (3' x 3')
Extra large double-glazed window (4' x 3')
Door Options:
Solid-steel door
Solid-PVC door
Half-glass PVC door
Half-glass French doors
Full-glass French doors
Materials Information:
For more information on Concrete Bases, Click Here.
For more information on Insulation Options, Click Here.
For more information on Roofing Options, Click Here.
Steeltech Home Office – Your Shortest Commute Ever!
Why rent an office when you can have an office beside your home for as little as €6,850?
Steeltech can provide you with all the necessary facilities to provide a pleasant and efficient working environment in which to develop your interests or run a successful business.
Our home offices can be adapted to suit individual customer needs. Perhaps you need a two-room office, or an office with kitchen facilities, or maybe even an office with a store room or garage? The Steeltech home office can be custom designed to suit you.
Our knowledgeable and professional sales staff will be happy to sit down with you to plan out your home office exactly the way you want it.